Packaging/ Palletization/ Fumigation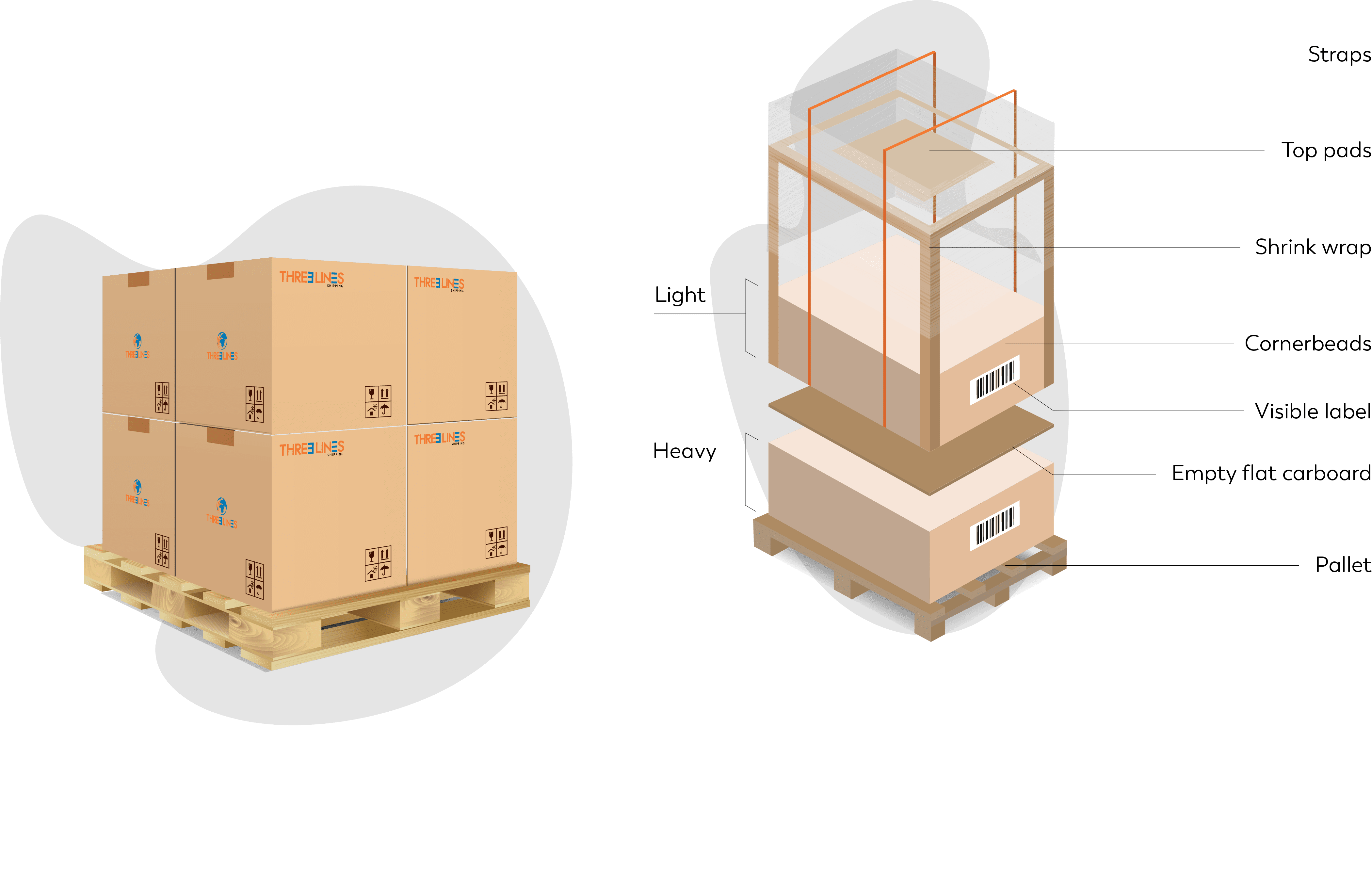 Get in touch with our team for all your queries.
Packaging of cargo is one of the most important aspects in modern business. Cargo should be packed in such a way that it should not only be protected from damages due to mishandling but also it should look compact at the same time. If the cargo packing stands to be bulky, then it will attract more space and volume which will also cost more.
Three Lines has designed and developed customized packaging services specifically for the requirements of various industries to prevent from transit damages like breakages, scratches, dents, abrasions and corrosion.
Whether a client is a large scale manufacturer with heavy and regular packing needs, or a small exporter with the occasional requirement, it can offer complete end-to-end solutions ranging from recommendation and selection of the right material, customized design and fabrication, packing and even dispatch.
Managed by our team of expert professionals, we at Three Lines Shipping have been able to continue our business endeavours with honesty and integrity. In order to maintain the same tradition, Three Lines Shipping has been delivering best in-class services to our clients.
Our portfolio of value added services includes palletization of export consignments. The palletization services are designed for safe loading and unloading of products. It also involves fumigation of the pallets for pest control, preventing shipment from possible damages. The experts at Three Lines Shipping make sure that the base of the pallets are accessible for pallet-jacks on two sides with a minimum clearance, allowing easy handling during loading and unloading of the goods.
Each pallet is correctly packed in the lengthwise and crosswise directions corresponding to fractions of the internal container width, length and height
Hazardous materials are packed with internal tonnage
All the crates are fumigated to prevent damages caused by pests
Palletized consignments are properly labelled to avoid any confusion
Vast product range – thermoplastic PE foam sheets and profiles, cross-linked and blended PE foams (block & extruded), as well as air bubble films and composites thereof
Customized products – corrosion resistant, anti-static, UV resistant and metal laminated foam & bubble films, besides EPDM and other specialty rubber foams
Oversees the actual packaging operations at the customer's site, sourcing and incorporating other materials in the process wherever necessary
Empty container fumigation, anti-fungal treatment for pallets used in export packing, heat treatment for packing wood cases, vessel fumigation and aluminium phosphate fumigation